The majority of us can't picture life without a cell phone. However, due to their high cost, mobile phones and cell services are often out of reach for low-income families. Fortunately, there are government assistance programs in place that provide households with the necessary means to stay connected and receive a free smartphone. Let's check out where to receive a free phone plan for low-income households.
Programs That Provide Free Phone Services to Low Income Households
If you are a low-income resident, you can benefit from many government assistance programs to receive financial support and even free monthly phone service to help you stay connected.
Lifeline Program

Lifeline is an FCC-operated program that aims to make communication services more accessible for low-income individuals. The Lifeline program offers eligible consumers free phone service to maintain communication.
To qualify for the Lifeline program, an individual's household income must be at below 135% of Federal Poverty Guidelines.  
Affordable Connectivity Program

The Affordable Connectivity Program (ACP), a long-term, $14 billion program that replaced the Emergency Broadband Benefit Program. This investment in broadband affordability ensures that low-income individuals have access to internet services for work, school, healthcare, and other essential services.
To be eligible for the ACP, your household income must be at or below 200% of the Federal Poverty Guidelines.  
Free Phones Low-Income Individuals Can Receive
Discounted monthly phone and internet services are offered by several Lifeline and ACP providers. Depending on the provider, state, and availability, qualifying consumers may be able to receive different phone plans. Most Lifeline and ACP providers provide Android and iOS devices in the entry-level to mid-range price range. Due to the popularity of these programs and limited availability of free devices, the exact phone model one might receive cannot be guaranteed ahead of time.
Nevertheless, many Lifeline and ACP providers offer free mobile devices such as: 
Samsung Galaxy S7
LG Stylo 4
LG M150
Motorola E5
Motorola G Stylus
Apple iPhone 6
Apple iPhone 6S
Read more: Top 5 Free Government Phones
Free Phone Plan Providers for Low Income Individuals
There are many Lifeline and ACP providers that offer a free smartphone plan for low-income individuals. You can refer to some of them below: 
AirTalk Wireless

AirTalk Wireless is a top Lifeline and ACP service provider in the United States. AirTalk Wireless is powered by AirVoice, an FCC-licensed Eligible Telecommunication Carrier (ETC) that delivers Lifeline and the Affordable Connectivity Program to eligible consumers across the country.
At AirTalk Wireless, eligible low-income individuals can enroll in both Lifeline and the ACP program. This combo plan provides:
Free 4G/5G smartphone
15 GB of high-speed 4G LTE/5G data 
Unlimited talk 
Unlimited text & picture messaging 
Lifeline and ACP combo will provide you with high-end smartphones models like the iPhone 7, iPhone 6 Plus, Galaxy S8 and more. AirTalk's benefits from this plan are valued at up to $750 per year. 
Read more: AirTalk Wireless Reviews: 5 Fast Facts
Safelink Wireless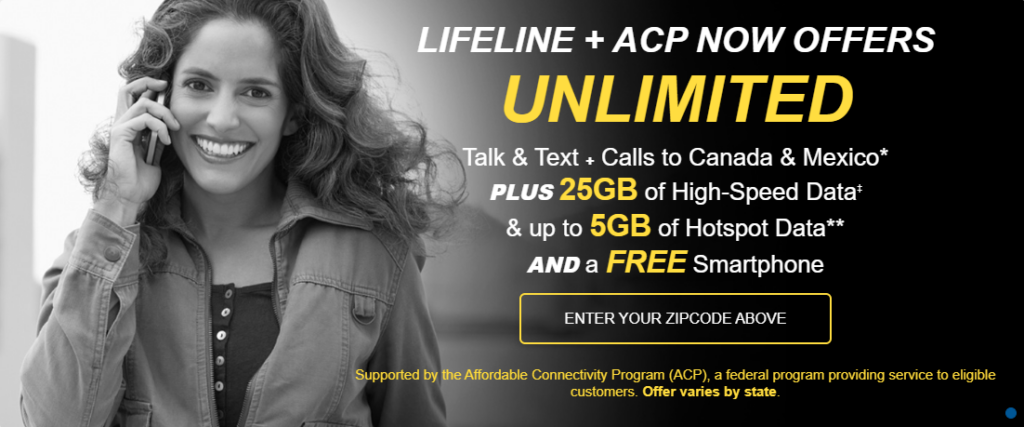 TracFone Wireless provides Safelink Wireless service to qualified households. This is a government-funded mobile phone program in the United States that gives those who meet specific income standards free phones and cell phone service. 
The Safelink "Keep Your Own Smartphone" Plan enables customers to keep their current device while moving their service to the Safelink network. Safelink also allows you to select the Lifeline and ACP combination to receive:
Unlimited talk & text 
Calls to Canada & Mexico 
25 GB of monthly data 
Up to 15 GB of hotspot data 
Please note that Safelink's benefits can vary by state. 
Read more: Safelink Wireless Review: Can You Trust This Company?
Cintex Wireless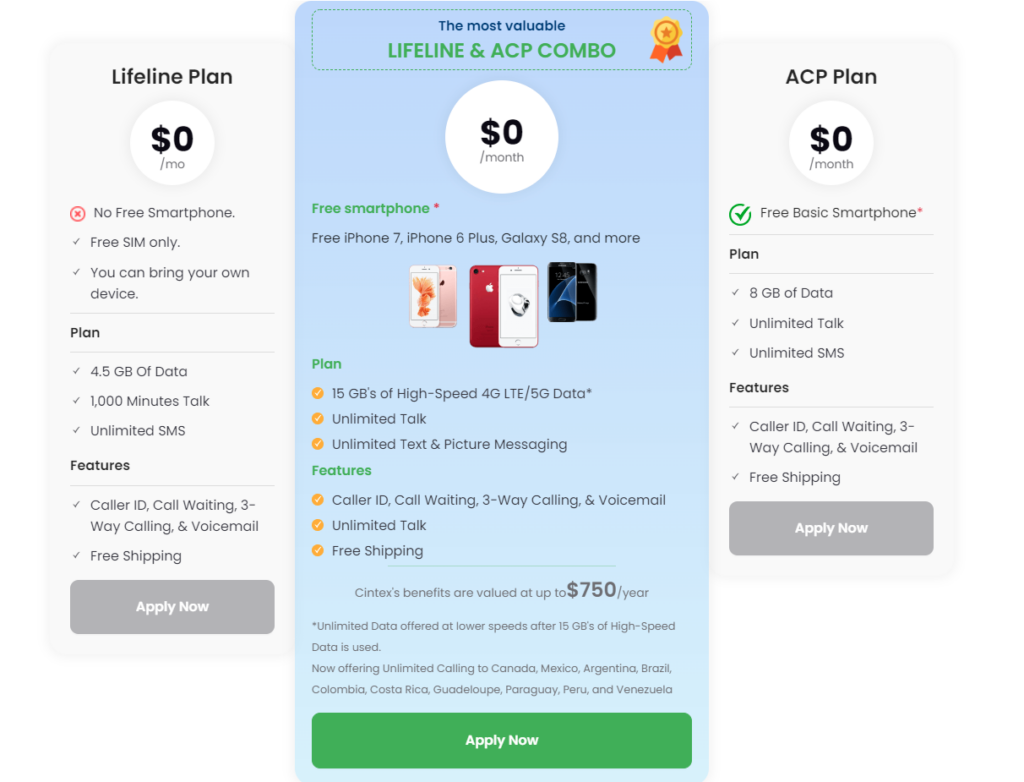 Cintex Wireless is also one of the fastest-growing Lifeline Assistance and ACP program providers in the nation. At Cintex, eligible customers will receive FREE cell phone service as a Lifeline user, which includes unlimited texts, 350 minutes of call time, and 4.5 GB of high-speed data each month. Plus, with the "Always On" feature, you'll be able to stay connected throughout the month with unlimited text and photo messaging, emergency access to 911, and more.  
Read more: Cintex Wireless Reviews: Reliable for Free Government Phones or Not
Assurance Wireless

Assurance Wireless is a federal government-run Lifeline Assistance program. Lifeline, a government aid program, is funded by the Federal Universal Service Fund. Assurance Wireless also provides the Affordable Connectivity Program (ACP). This program was intended to give qualifying households a discount on broadband service so that they may stay connected to employment, crucial healthcare services, virtual classes, etc.
Assurance Wireless offers free cell phones and Android smartphones to eligible customers as part of the Assurance Wireless Unlimited Plan. In addition to a free Android phone, Assurance Wireless offers its customers free unlimited cell phone service which includes: 
Unlimited data 
Unlimited texts 
Unlimited minutes 
Free 10GB monthly mobile hotspot data 
Read more: Assurance Wireless Review: Is It Legit?
How to Apply for Free Phone Plans
Low-income individuals can apply for a free phone program by following these basic steps: 
Choose your provider: You can get a free phone plan from a Lifeline or Affordable Connectivity Program (ACP) service provider. Therefore, you should first identify which providers offer the best plan for your unique needs.
Complete your application: After selecting your preferred provider, visit their official website and fill out an application. 
Get approved: After applying, it will be reviewed by the National Verifier. Once the National Verifier approved the application, your service provider will notify you of your application's approval status. Then, your free phone will be shipped to you.
Get Your Free Phone Plan Today
Smartphones and mobile services are an indispensable aspect of our daily lives, and everyone deserves the ability to stay connected. Low-income individuals can qualify for government assistance programs, like the Lifeline and Affordable Connectivity Program to receive free monthly phone service and a free phone. Select a provider to start saving today.   
Related posts: