In the twenty-first century, communication and wireless devices like smartphones, tablets, and laptops are a necessity to everyday life. While these technologies become more affordable each year, they are still unfortunately out of reach for many individuals. How can a person from a low-income household, for example, obtain a tablet, which is regarded as one of the most valuable wireless devices? Is it possible to obtain a free tablet? Keep reading to learn where and how to get a government tablet. 
How to Get a Government Tablet 
The Affordable Connectivity Program (ACP), which replaced the Emergency Broadband Benefit or EBB program, is a new government aid program administered by the Federal Communications Commission (FCC). The ACP program went into effect on December 31, 2021, the same day its predecessor, the EBB program ended. The ACP is a long-term program that was created to provide low-income households with access to internet and broadband in order to stay connected to work, school, healthcare, and other vital services.
Free or discounted monthly service and connected devices are the two main benefits offered by ACP suppliers. All ACP providers offer a monthly broadband internet service discount of up to $30 ($75 for qualifying Tribal families). Some ACP program providers also provide qualified individuals with discounts on connected devices such as a tablets, laptops, or desktop computers. This offer requires eligible individuals to make a co-payment between $10 – $50 in order to receive one of these discounted devices.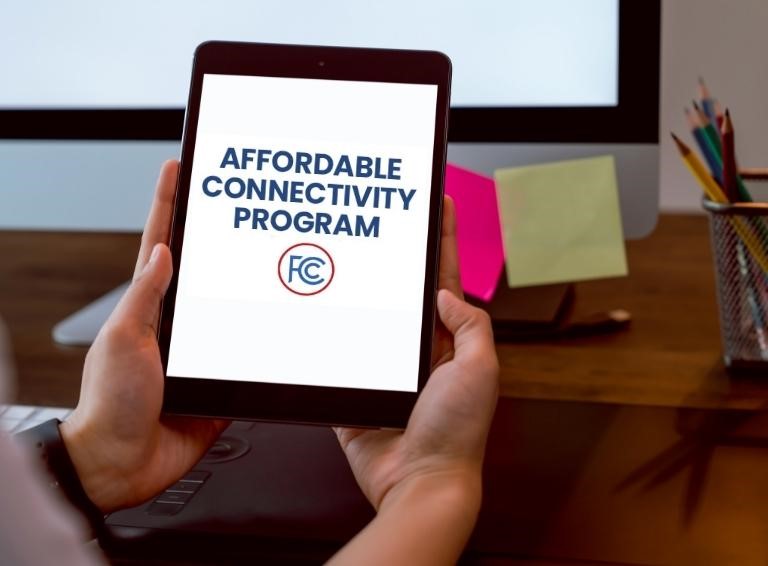 To be ACP-eligible, you must meet at least one of the following requirements:
Your annual household income is 200% or less than the

Federal Poverty Guidelines

. 
You participate in a qualifying government assistance program, such as Lifeline, Medicaid, SNAP, SSI, WIC, or Federal Public Housing Assistance. 
You participate in a Tribal assistance program, such as Bureau of Indian Affairs General Assistance, Tribal TANF, or Food Distribution Program on Indian Reservations. 
Your child or dependent receives benefits from the National School Lunch Program or the School Breakfast Program, including through the USDA Community Eligibility Provision. 
You have received a Federal Pell Grant during the current award year. 
Where to Get Free/Discounted Tablets?
AirTalk Wireless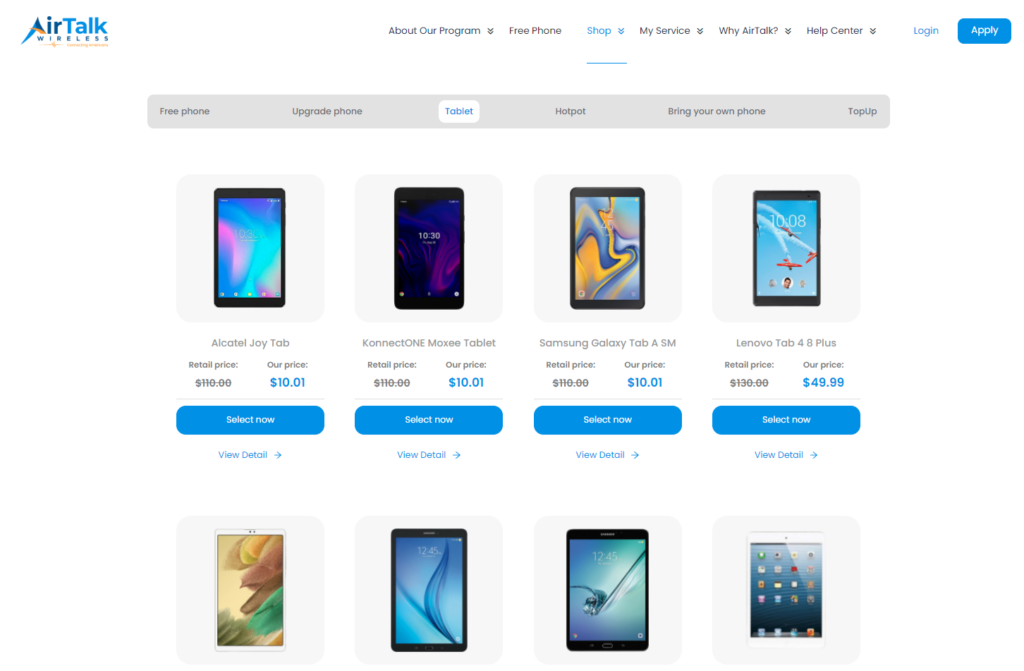 AirTalk Wireless is a prominent name amongst Lifeline and ACP program providers. AirTalk offers free government phones from high-end models like iPhone 8, Samsung Galaxy S9, LG G7 ThinQ, etc. plus free unlimited monthly data, talk and text.
AirTalk has recently started offering tablets at deeply discounted rates as a part of their Lifeline and ACP monthly plan. Most AirTalk Wireless tablets are subject to a one-time payment of $10.01, which is nearly 90% off of the retail value of some tablet models. AirTalk is offering tablet models such as:
Alcatel Joy Tab 
Samsung Galaxy Tab A SM 
Apple iPad Mini 2 
Apple iPad Air 
Samsung Galaxy Tab S  
QLink Wireless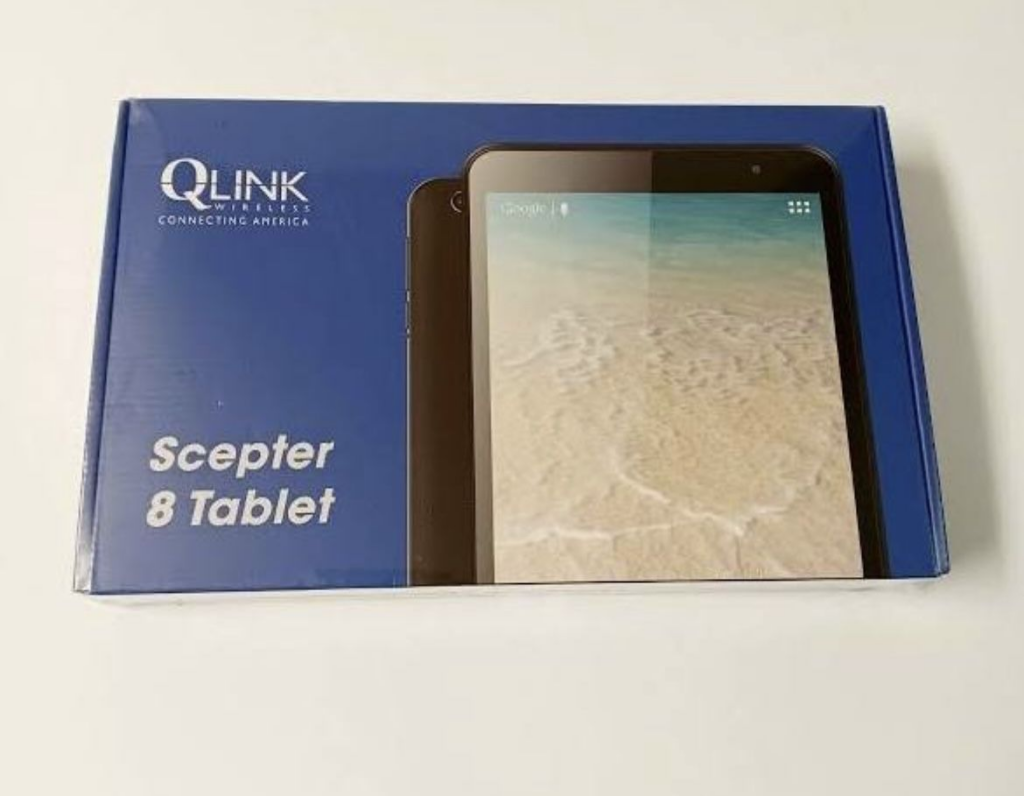 QLink Wireless is another nationwide wireless carrier that provides Lifeline and ACP benefits to qualified residents across the country. Eligible families may get a tablet with the newest Bluetooth and Wi-Fi features from QLink Wireless for $10.01. Customers who qualify for the ACP can also obtain a free monthly phone service that includes unlimited talk, text, and data. 
Easy Wireless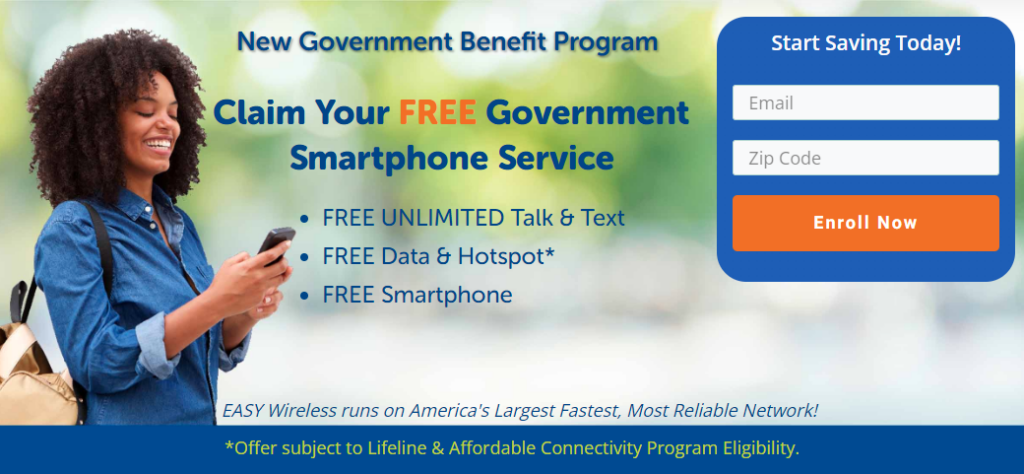 Easy Wireless is another wireless carrier that provides qualifying households with Lifeline and ACP benefits and savings. Eligible consumers can get a 8-inch tablet or smartphone from Easy Wireless. Customers may also be eligible for a free monthly phone plan that includes unlimited talk, text, data, and hotspot access. Only qualifying families are eligible for the unlimited data and tablet offer. 
How to Apply for A Government Tablet 
To receive a discounted government tablet, you can apply via the Lifeline and ACP providers by following these steps below: 
Choose your

Lifeline and ACP provider

. The 3 above-listed providers are a few options that offer free government tablets with the free monthly service. 
Head to their website. Find the Apply button, and click on it to start your application.  
Fill out your information and upload your proof of eligibility. You will be required to submit this information to both your provider and the National Verifier.  
Choose your eligible tablet. 
After you are approved, most providers will ship your order anywhere from 5-10 business days.
Final Words
Many low-income households are unable to obtain essential connectivity items such as tablets/devices and internet access. Thankfully, there are government assistance programs that are here to help, and many wireless service providers offer these benefits. If you meet certain eligibility requirements, you may be able to receive free monthly service and a discounted tablet. Don't hesitate – apply today!
Related posts: