Cintex Wireless is quite popular among providers of Lifeline and ACP services. They operate in a number of states and provide excellent plans that include a large number of free minutes and data. Cintex Wireless also provides free government phones. Many people prefer to update their phones since the free phones are pretty basic and frequently do not meet all of their demands. Let's check out the top Cintex Wireless upgrade phones.
Why Should You Choose Cintex Wireless Upgrade Phone?
If your Cintex Wireless phone breaks down and you are unable to acquire a replacement phone for free (which is a possibility, but more on that later), you should seriously consider upgrading. It's possible that the cost of a new phone will be comparable to the cost of an upgrade phone. As a result, it's a good idea to look into the upgrading phones that are accessible (more on that below).
How to Upgrade Cintex Wireless Phone?
The Cintex Wireless phone upgrade process is not as complicated as many thinks. However, you should follow the following simple steps to receive your phone upgrade:
Step 1: Head to Cintex Wireless website. Then, choose Shop > Upgrade Phone.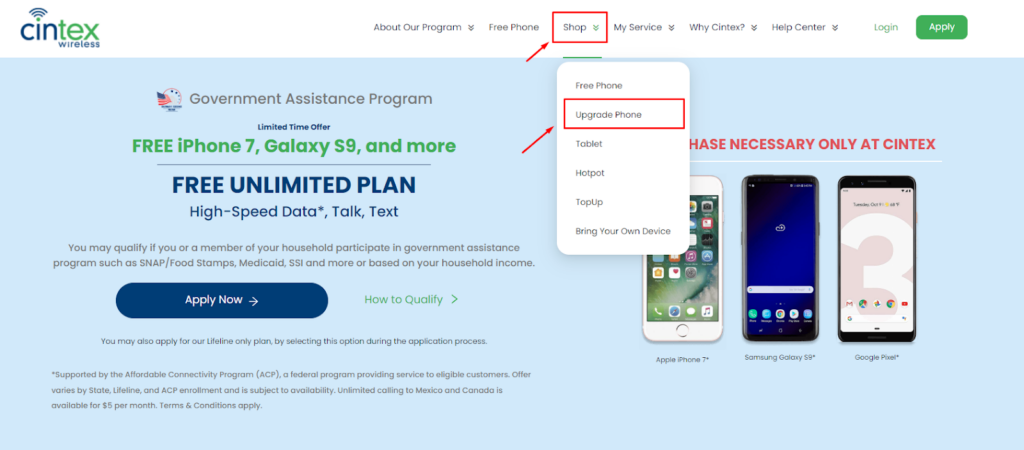 Step 2: Here, you will see the upgrade phone options from Cintex. Choose your preferred upgrade phone and click on Select now.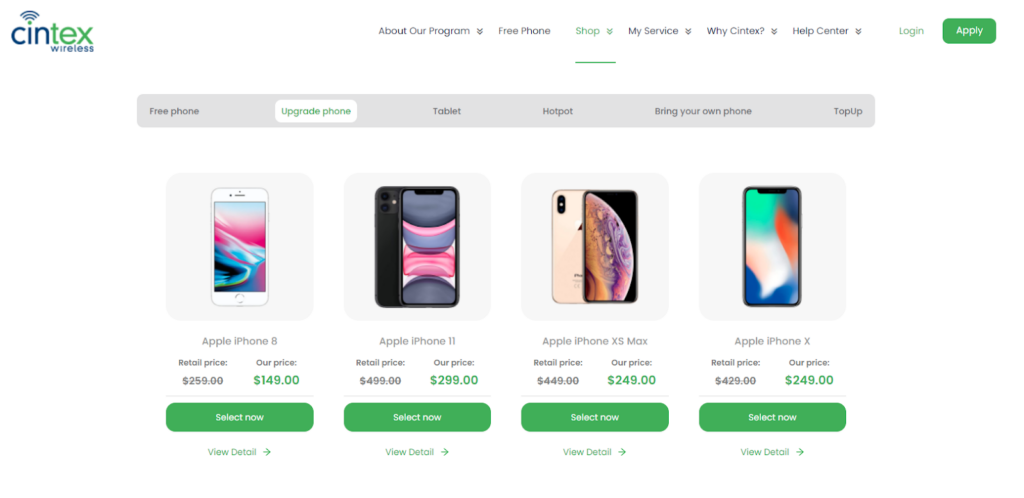 Step 3: You will be taken to the application platform. Here you will provide your zip code, personal information, and proof document to apply for a Cintex Wireless upgrade phone.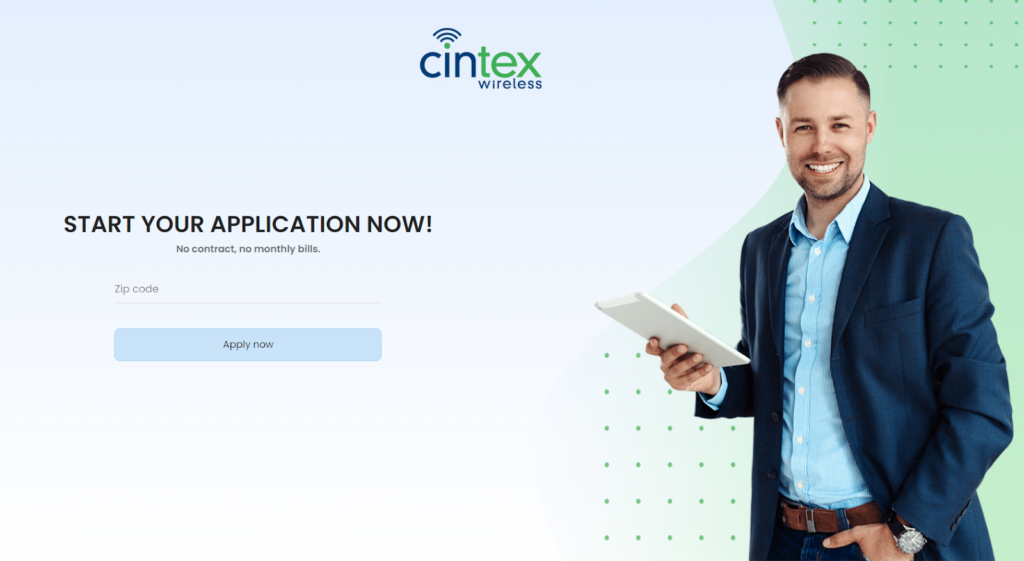 After your application and payment are accepted, you can receive your phone in 5-7 business days.
Top Cintex Wireless Upgrade Phones
Apple iPhone 11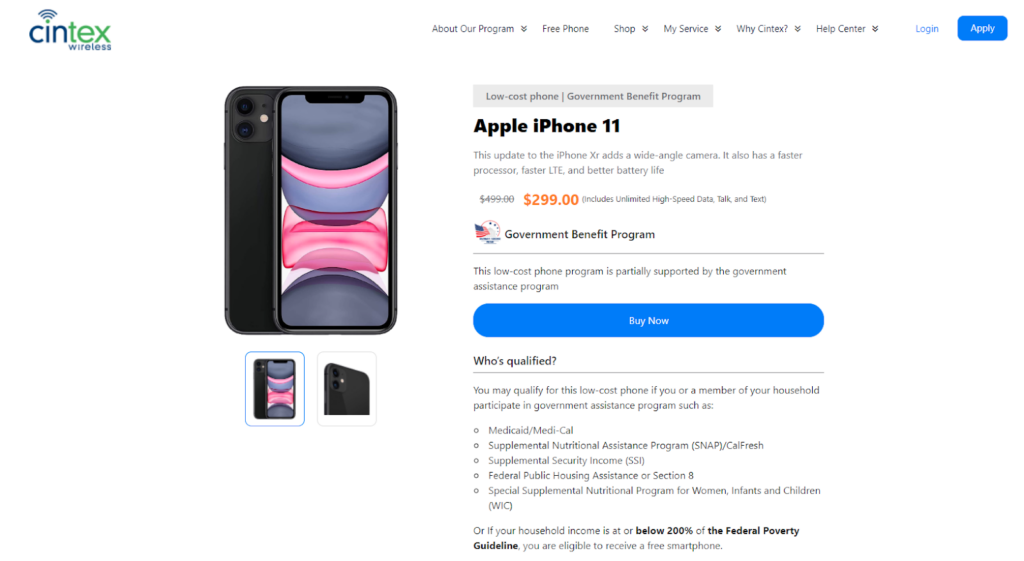 In September 2019, Apple unveiled the iPhone 11. Even though it's the 11th generation iPhone, it's still a high-end smartphone. The iPhone 11 uses the same A13 Bionic technology with machine learning as its larger brothers, the iPhone 11 Pro and iPhone 11 Pro Max, at its core. A dual rear camera with 4k 60 fps video recording and night mode adds to the camera's capabilities. All of those photos and movies will appear fantastic when viewed on the 6.1-inch Liquid Retina display.
The retail price of iPhone 11 on the market is around $499, but if you are eligible for Cintex Wireless upgrade phones, you can get it with only $299.
Samsung S10E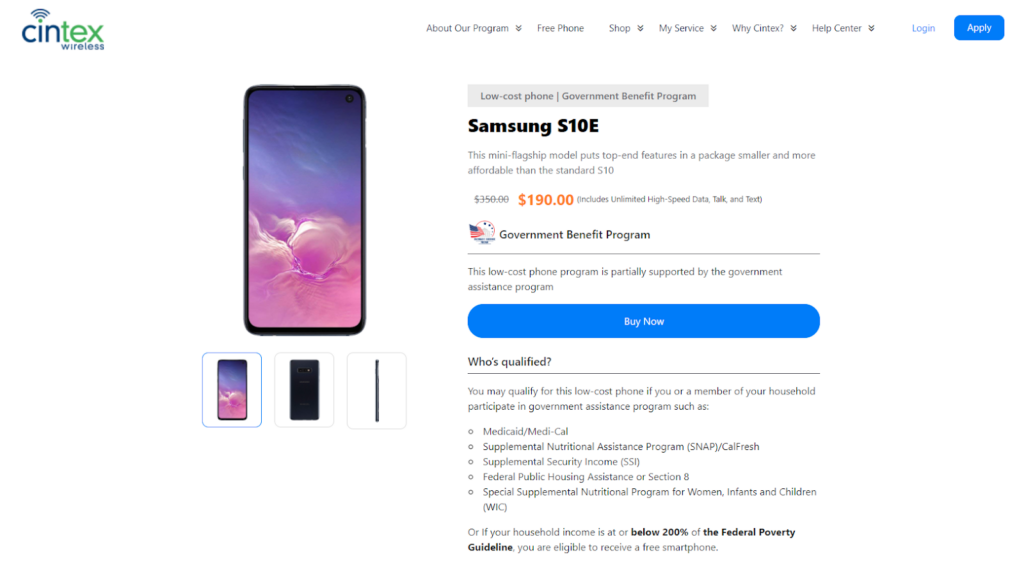 Samsung's 10th generation inexpensive flagship, the Galaxy S10e, was introduced in February 2019. The front face of the S10e features a 5.8-inch Infinity-O display. The AMOLED display has a high screen-to-body ratio of 83 percent, thanks to its slim bezels. With an octa-core Snapdragon 855 processor, 6GB or 8GB of RAM, up to 256GB of internal storage, and a 3100mAh battery, the S10e has really premium features. With a 12MP wide-angle lens and a 16MP ultra-wide lens, the S10e provides a diverse camera experience.
Instead of paying about $350, you can get a Samsung Galaxy S10E with only $190 by applying via Cintex Wireless.
Google Pixel 5 5G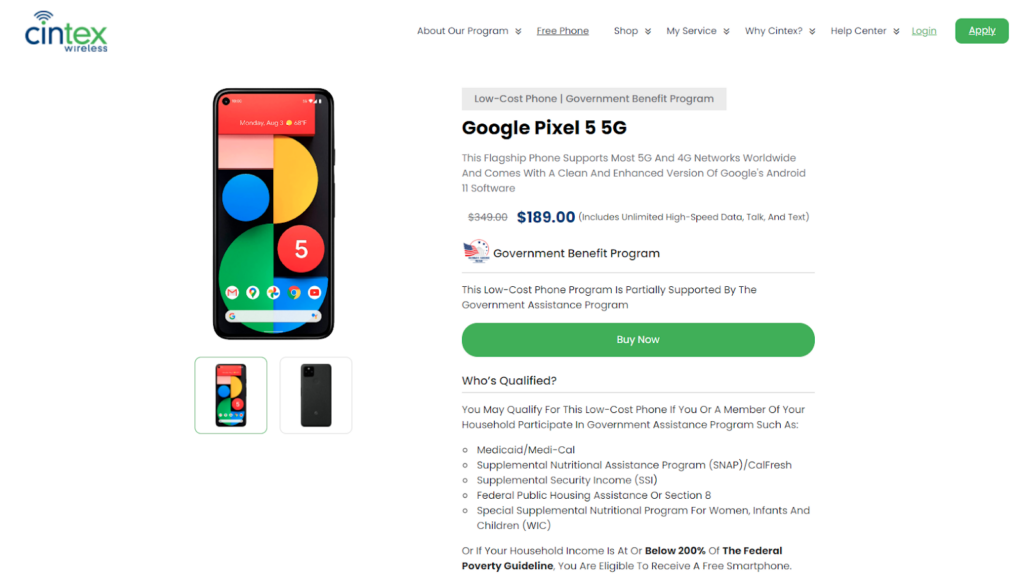 The Pixel 5 5G launched with Android 11 and can be upgraded to Android 12, and it supports a 5G connection, as the name indicates. The Pixel 5 5G is the first device in the Pixel "a" series to receive an IP67 rating for water and dust protection. A 4,680 mAh battery with fast charging, Adaptive Battery, and Extreme Battery Saver, a 6.34″ Full HD+ OLED display, Snapdragon 765G processor, 128GB of storage, 3.5mm headphone jack, the Titan M security chip with Pixel Imprint for device security, and a dual-pixel 12MP and 16MP ultrawide camera array on the back are some of the other highlights.
You will not need to pay a $349 for a Pixel 5 5G. You only need to have $189 to get a Google Pixel 5 5G from Cintex Wireless.
OnePlus 6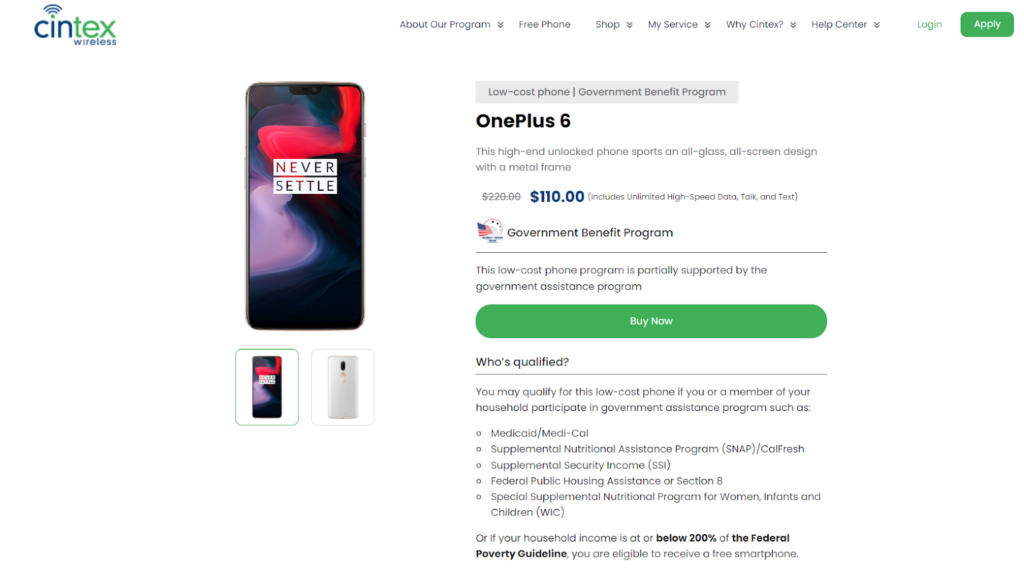 The OnePlus 6 features a redesigned glass back with three distinct finishes, a Qualcomm Snapdragon 845 chipset, and a larger screen with a notch. It competes with today's most expensive flagships, some of which cost more than twice as much. The performance is excellent, and the presentation will please the majority of viewers. The phone is also attractive and comfortable to hold, and you may proudly display it. The cameras are a tad lackluster, and some users may miss the creative choices available from other manufacturers. The battery life was sufficient to last us a full day with considerable juice left over. The OnePlus 6 doesn't have all of the bells and whistles of a high-end phone, but it has more than enough to satisfy most people.
On the market, you will need to pay $220 for a OnePlus 6, but on Cintex Wireless, all you need is a one-time payment of $110.  
LG V50 ThinQ 5G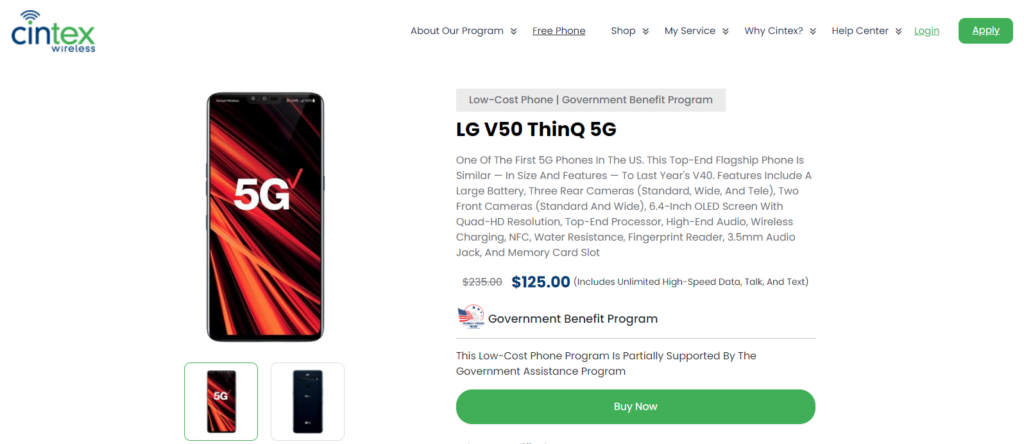 LG's venture into the 5G ecosystem is the LG V50 ThinQ. With a Snapdragon 855 CPU and 6GB of RAM on the inside, it's a robust device that runs Android 9.0 Pie out of the box. It offers enough capacity for applications, movies, photographs, and music with 128GB of storage and a MicroSD card that can add another 2TB. 
With a retail price of $235, V50 thinQ belongs to the mid-range phone segment. However, you only need to pay $125 to own it at Cintex Wireless. 
Get Your Cintex Wireless Upgrade Phone Today!
Cintex Wireless is a Lifeline and ACP provider that provides qualified consumers with free phones, including both free Android and iOS smartphones, according to availability. If you are a Cintex Wireless customer who is unsatisfied with the offered equipment, you can upgrade your Cintex Wireless phone. In addition, if your mobile phone breaks down and you are unable to get a replacement phone for free, you may want to consider upgrading.